Sometimes, by dint of repeated sunbathing, chlorinated water from the swimming pool or chemical shampoos, your coloring can oxidize and reveal unwanted red reflections.
Do not panic! There are solutions to make these reflections disappear. We take stock of the different techniques and their effectiveness.
What causes the appearance of red highlights in my hair?
As I said in the introduction, the sun, chlorinated water, but also seawater, pollution or tobacco tend to accelerate the oxidation of your color, especially if it is brown or brown.
This can also happen on natural hair, which has not been dyed. If your hair has red highlights at the end of summer, you know why!
Time and the use of commercial chemical shampoos also tend to depigment colorings and wash colors as you go.
To limit the damage caused by washing, it is, therefore, advisable to use shampoos suited to your hair color, or even special shampoos for colored hair.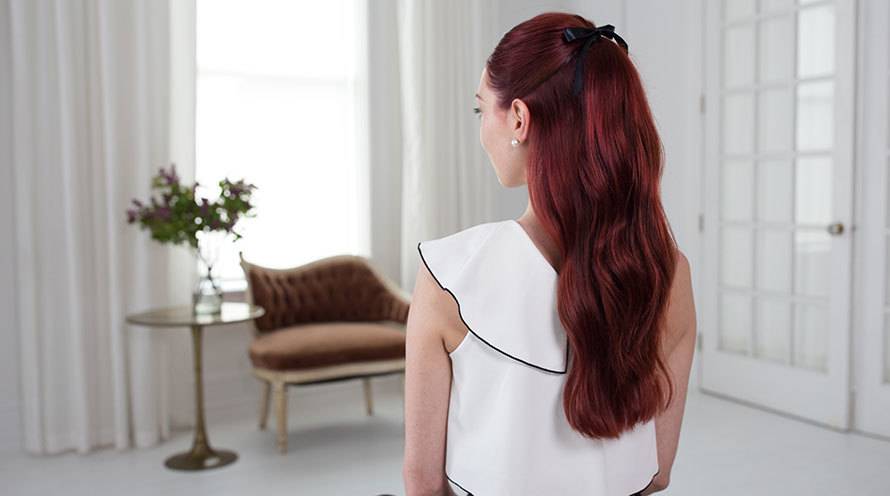 Finally, it is possible that red highlights may appear in your hair if the quality of the coloring is not optimal.
In fact, the inexpensive colors found in supermarkets are often not very high quality.
For a color that holds, it is better to turn to a professional, or at least turn to permanent dyes of professional quality.
The blue shampoo to get rid of unsightly red reflections
Even if the red highlights are not necessarily ugly, it is not necessarily what you want to look like, and it is therefore completely legitimate to want to get rid of them to find a hair color that you like.
Before going to the hairdresser to cover your reflections with a new color, the solution to try at home is undoubtedly blue shampoo.
The blue shampoo also called purple shampoo or silver shampoo is designed to cancel the red, yellow or orange reflections contained in blonde or brown hair.
It is composed of blue pigments that have the function of neutralizing the warm shades of hair coloring.
How to use blue shampoo and how often?
If the blue shampoo is very effective in eliminating the hot reflections present in the hair, it is also very drying for the hair fiber.
No question therefore of completely replacing your usual shampoo with blue shampoo. This could further damage your hair which is already weakened due to its coloring.
On blond or ash blonde hair, for example, it is recommended to use it only once every two weeks.
If you have platinum blonde, polar blonde or gray hair, you can use the shampoo up to once a week.
It is also recommended to use a nourishing and moisturizing mask on your hair each time you use your blue shampoo.
Also encourage natural care, to make yourself, or commercial products that do not contain sulfate or sodium.
In addition to its frequency of use which must be limited, a blue shampoo applies like any other shampoo.
Apply a nut of shampoo to your wet hair, lather, and rinse thoroughly until all the product is eliminated. To gain efficiency, you can wait a few minutes and leave the shampoo on before rinsing it off.
If you do a search on the internet, you can read articles that advise you to let your blue shampoo sit for several hours so that its effect is doubled.
This is however not recommended by professionals, due, once again, to the drying properties of this type of shampoo.
This technique can however be interesting if you want to add blue or purple reflections to platinum blonde coloring.
In order not to damage your hair and counter the drying effect, you must however mix your blue shampoo with a conditioner or a moisturizing mask and have this mixture applied.
How to choose the right blue shampoo?
There are blue shampoos of different concentrations. The more or more pronounced the reflections, the more you will need to use a strong blue shampoo.
The purple shampoo will be enough to erase light reflections. A purple shampoo will be necessary for more pronounced reflections and installed longer.
Also, choose a blue shampoo designed for your hair color. A blue shampoo intended for platinum or gray blonde hair could for example tarnish your ash blonde color without erasing the red reflections.
Blue shampoos can be found in supermarkets or in hair salons. They are offered by most brands of professional hair products.
A bottle of blue shampoo generally costs around fifteen euros. It may seem expensive compared to a classic shampoo, but it's still a more attractive price than what you would have to pay to catch up with your color at a hairdresser.
What if the blue shampoo doesn't work?
If the blue shampoo does not give you the effects you want, unfortunately. You have no choice but to make a new color.
You can make a tone on tone coloring at home, with products bought in supermarkets. The tone on tone coloring does not contain ammonia and is, therefore, less aggressive for the hair than a conventional coloring.
Such coloring makes it possible to restore shine and pep to your color by reviving the shade. But also to avoid the effect of roots that grow back.
Be careful, however, by making a new dye that may not be of the best quality. You may find yourself again with red highlights.
Therefore, the best solution to catch up with your highlights is to go to your hairdresser to do a new color.
Your hairstylist will be able to design a color similar to your original color, to which he will add the blue or purple pigments necessary to neutralize the red highlights that have appeared in your hair.
Even if this solution turns out to be more expensive. It is the surest to completely overcome these unsightly red reflections.
Conclusion
Your red highlights are not inevitable, and there are simple solutions to overcome them. Blue shampoo is effective on most hair, provided you choose the right product, with an appropriate dosage of pigments.
If this solution proves to be unsuitable for your problem. It will however be necessary to turn to a new coloration. Either at home with a tone on tone coloration or at your colorist hairdresser for a new permanent coloration.
To avoid the appearance of red reflections, favor quality colorings. And remember to use hair products preferably without sulfate, or even natural products. Proper hydration of your hair also makes your coloring last longer.
About Author